Masonry and Brick Sealing
Brick Waterproofing
Concrete Sealing
Building Cleaning / Sealer
Tee Flange Crack Repair
Crack Injection
Epoxy Injection
Crack banding with Urethane Coating
Surface Sealer with Pressure Washing or Shot blasting
Exterior Wall Coatings
Waterproofing Material Applications
Waterproofing Membrane Installation
Structural Repairs
Clear Sealer Application
Commercial Waterproofing
Construction Waterproofing
Concrete Restoration and Waterproofing
Commercial buildings require specialized care and services for preservation, repair, and preventive maintenance. GHB has qualified, knowledgeable and experienced estimators, and skilled tradesmen to provide cost-effective sealing, and waterproofing solutions for stability, protection, and curb-appeal of your property.
GHB Inc. Mission Statement ~
Our mission is to enable property owners and managers to overcome the waterproofing and exterior maintenance challenges they will inevitable face; we work to protect and enhance property investments at an affordable price.
Call us Today for a Free Consultation at (425) 250-1044
Click below to Visit all GHB Companies & Services, and learn more about our Window Cleaning Company & Fall Protection Division...
Summary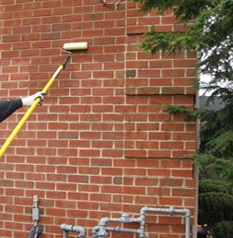 Article Name
Waterproofing & Building Sealing: Brick & Concrete
Description
GHB Construction Services Inc. can protect your investment with our waterproofing and sealing solutions. Both concrete and brick are porous materials and overtime will diminish in strength due to time, weather, water & pollutants.
Author